1 mei 2023
EOR versus an inhouse back-office
When you, an employer from somewhere outside of the Netherlands, would like to hire an employee on Dutch ground, you have two options. The first option would be to set up your own inhouse back-office. The second option would be to outsource your employees to a local partner, like an employer of record. To give you a clear picture of what both options entail, we've written out all the steps one has to take per option. In this article we dive into all the steps to take to set up your own back-office and the steps to take when enlisting the services of an EOR (also known as umbrella company). Furthermore we will give you an overview of the costs of both options.
Option 1: Inhouse back-office or payroll management
First, let's clarify what an In-house back-office actually refers to. This is an office that handles the various administrative and support functions of a company that are handled by its own employees, rather than being outsourced to third-party service providers. These functions may include tasks such as: human resources, accounting and finance, IT and customer support. To set up such a function within your company can be a bit of a hassle within the country of origin, let alone to set it up in a whole new country. We noted them below, to give an idea of all the steps one has to take:
Choose a legal entity that is recognized in the Netherlands, such as a BV or a NV depending on your specific needs

Register your business with the Dutch Chamber of Commerce (aka Kamer van Koophandel or KvK) and obtain a RSIN (business registration number)

Depending on the nature of your business, you need to obtain necessary permits and licenses to operate legally. For example, if your back office involves handling sensitive personal data, you may need to obtain a data processing license.

Open a business bank account with a Dutch bank to manage your business finances 

Hire good and trustworthy employees, and while doing so make sure to follow the Dutch labor laws and regulations 

Find a suitable location and set up your office 

Implement necessary systems and processes for tasks such as accounting, payroll, and IT support. 

Finally, obtain insurance for liabilities such as property damage, and employee injuries.
According to these steps, you'd be dealing with five organizations at the very least. Such as the Chamber of Commerce, City Hall, a Dutch bank, a legal department and an insurance company. To set up shop in the Netherlands one might also need the help of a notary, recruitment party, administrative consultant, IT support and a rental agent to help you find an office space. During the process of setting up your own inhouse back-office, you will be in touch with a lot of different parties.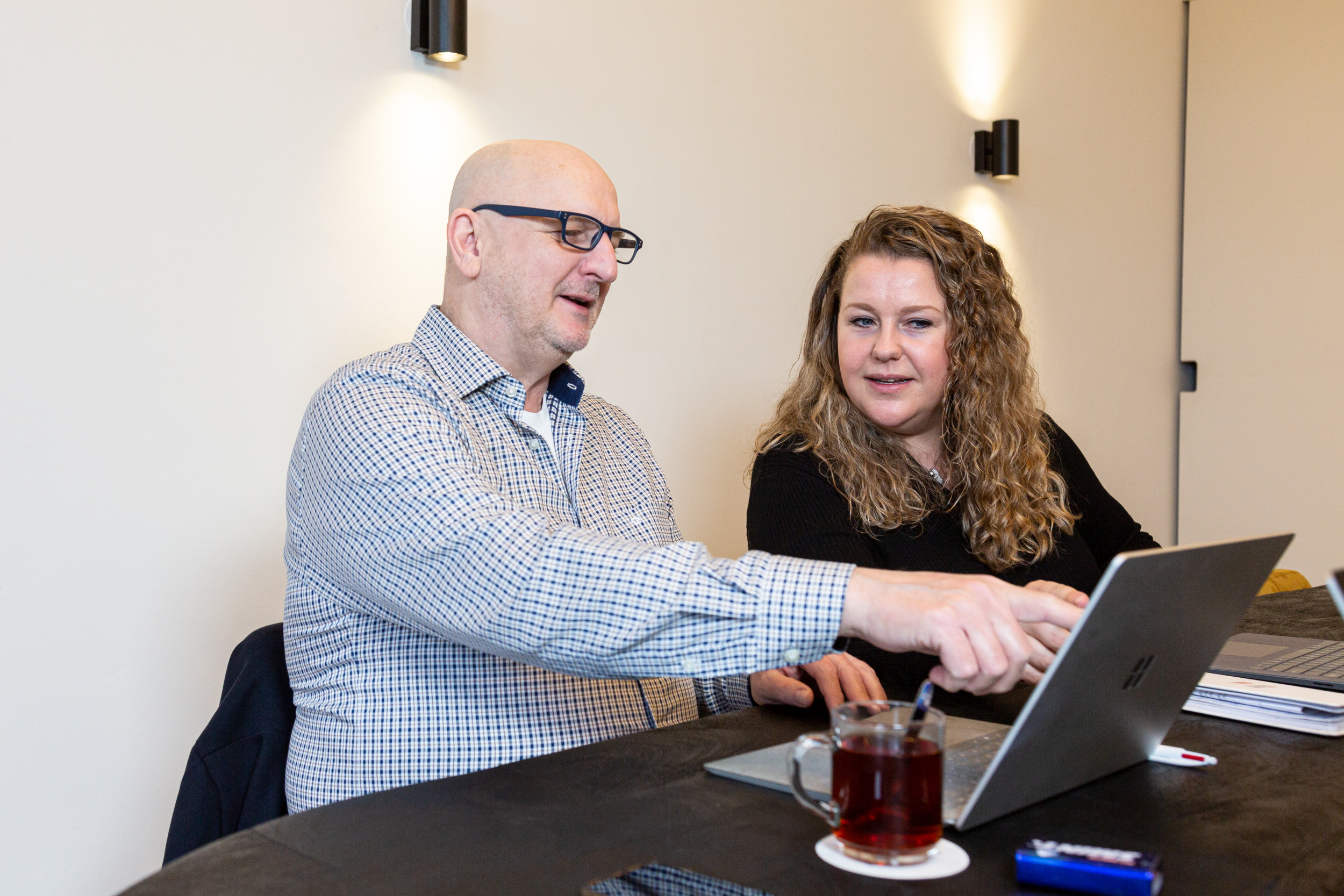 Option 2: outsourcing to an EOR
If you want to avoid all the hassle of following the steps mentioned above; are a small start- or scale-up company which wants to spend its time on important tasks such as their business or are looking to hire 15 employees or less in the next year or two: a compliant EOR company would be absolutely beneficial to take advantage of. Meaning you can outsource your employee(s) to a local partner EOR, which stands for Employer of Recor (also known as umbrella company).
In short, an Employer of Record acts as a back-office department & legal employer for the employees, you as the initial employer, hired. You can think of an EOR as an extension for your company whereas you hold all interviews, agree to employment terms, and hire anyone to your choice. After a quick notification to the EOR, the EOR starts the onboarding process, immigration (if applicable), payroll, benefits, social security & employer's taxes contributions and income taxes. Yet before the EOR can get started, there are some steps for you to follow. The official process may vary a bit, the steps that are mentioned below are the main ones:
Determine your outsourcing needs

Research potential EOR providers

Evaluate legal and tax implications

Get in touch with the EOR of your choice

Negotiate terms and sign a contract

Provide necessary information to the EOR
Once you determine which specific tasks you'd want to outsource, the journey can begin. By using any search engine on the web or asking around in your network, you'll have a list of potential EOR's in no time. Step 3 and 4 can go hand in hand. When getting in contact with an Employer of Record of your choice, during the introduction and negotiation process the organization can tell you more about the possible legal and tax implications of collaborating with them. Then all that's left is to negotiate terms, sign a contract, provide the needed information to the EOR and off they go! And you can go back to what is most important to you: focussing on and building your business!
Costo
verview Inhouse back-office vs EOR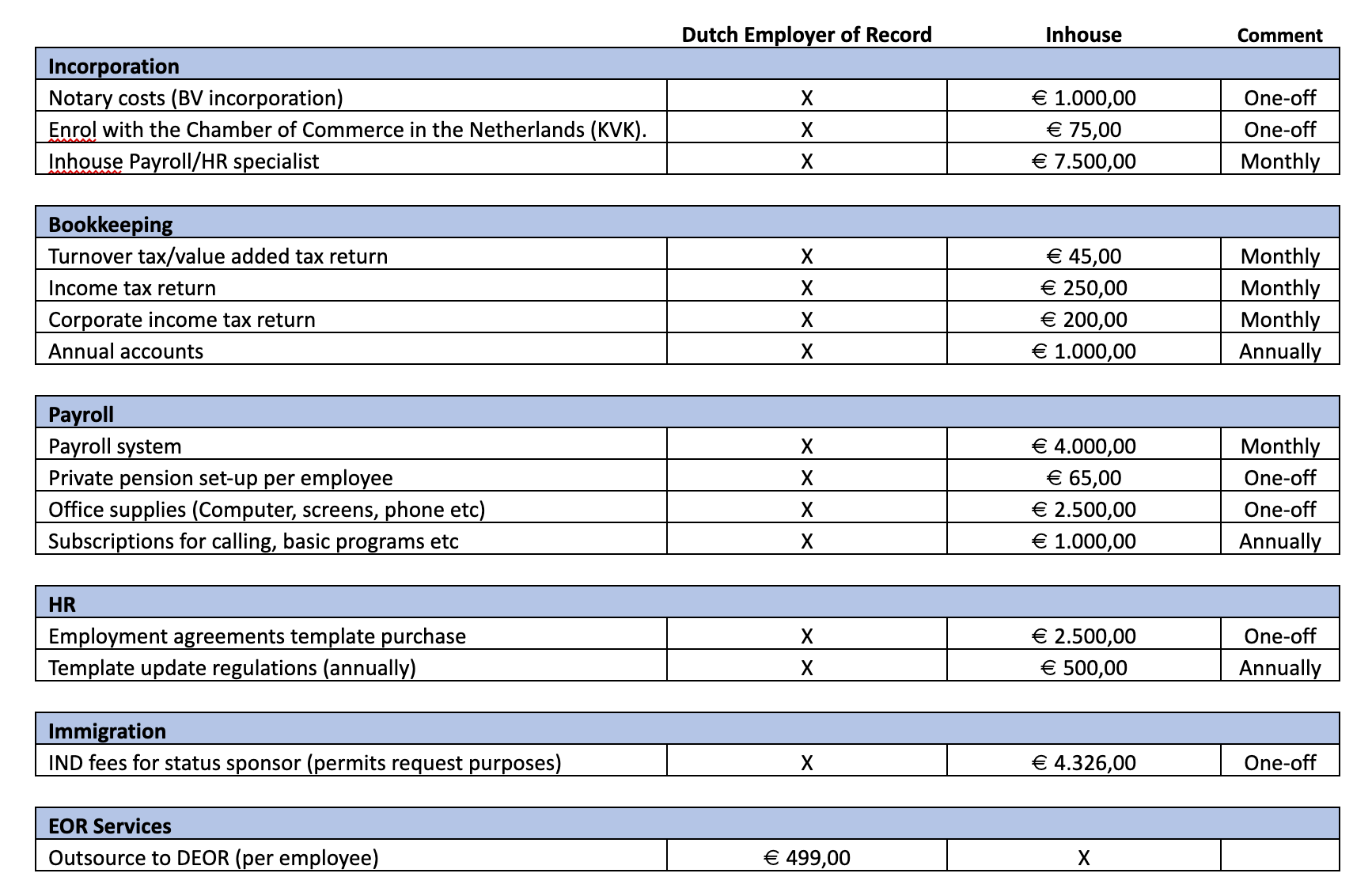 Dutch Employer of Record: the EOR for you
In almost all cases, scale-up companies choose to outsource their first hires to an Employer of Record in the Netherlands. This is beneficial not only financially but also provides the flexibility for your company to focus its time where its strength really lies; operations, hiring, marketing etc. After your company has established a certain size, you can start considering the option to set-up an HR & payroll department inhouse and slowly transfer matters over to your entity.
If your cooperation in the next year or 2 would hire 15 employees or less, it would be absolutely beneficial to take advantage of a compliant EOR company that takes care of all back-office matters, while you can focus on the growth of your company.
By comparing the total cost involved in doing the back-office operations inhouse and the fee you would pay to the employer of record, you would be able to quickly come to a decision. Even in the case that both solutions would amount to the same costs, choosing an EOR would still lighten your burden of involvement with the Dutch legislation and regulation.
Dutch Employer of Record can help you lighten the burden. We are efficient and friendly, competitive and complete & compliant. If you would like to learn more about our services, contact us or set up a profile and discover what an Employer or Record can do for you!